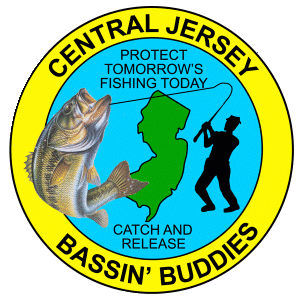 Central Jersey Bassin' Buddies

Who are we?
We are a small bass fishing club located in Union County (Central) New Jersey. We try to fish the less pressured lakes of central and northern New Jersey areas. Currently we have about 18 members, but we are looking to increase that number to 24.
Meetings
The club holds regular meetings on the first Wednesday of every month. Currently our meetings are held at the VFW hall on South 21st in Kenilworth.
Competition
Although competition exists within our club during our fishing tournaments, it is overshadowed by the camaraderie of our members. We try to keep the gratification up while keeping the pressure down.
Tournaments
We try to hold ten tournaments between March and October. The beginning date is generally dictated by how soon winter's grip loosens the waters in the area. For more details, see our Tournament Schedule.
Catch and Release
We practice catch and release. Our tournaments, between April 15th and June 15th are "Paper Tournaments" where caught bass are immediately measured (length) and released. We rely greatly on the honor system and required each boat to have a golden rule to measure and record fish lengths before releasing them back into the water.

The remainder of the tournaments requires that the bass be kept alive in live-wells. Their weights will be recorded at the end of the tournament and all fish are then released back into the water.

Entry Fees
The tournament entry fee for everyone is $35.00.
The lunker pool entry fee is $5.00. It is voluntary and open to all paid tournament participants.

Prize Awards And Payouts
First and second place monetary prizes are awarded to those paid tournament participants whose 5 bass fish have accumulated the most points during a tournament. The amount of the award is based on the total tournament entry fees collected for that tournament.
Payouts are:
First Place: 30% Second Place: 20%
The club keeps the remaining 50% which goes toward member activities, awards and social events.

The lunker award is presented to the person catching the largest or heaviest bass during the tournament. The award is the total lunker pool fees (100%) collected for that tournament.
Annual Picnic
Each summer the club holds an annual picnic where members, their families and guests, gather for a day of outdoor cooking, eating, laughter, and the swapping some of the best fishing stories ever heard.
Annual Awards Dinner
Each year, in February, we have our annual dinner where members and their spouses meet for an evening of dining pleasure. Immediately followed by our award ceremony were we present the previous year's tournament winners with trophies and accolades.
Non-Profit
Our club does not keep any of the dues or fees that we collect during the course of the year. With the exception of a "carry forward" amount of around $100, all monies are spent on club functions, activities, awards and door prizes for our members.
---
Are you interested?
We are currently in search of new members. We are specifically looking for boaters, but will consider non-boaters based upon our current membership ratio.
For further information, please send us an email and someone will be in touch with you shortly.